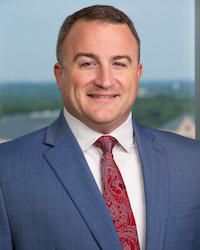 J. Allen Williams
Attorney
Allen leads the Transactional Divison of the firm.
He has a real estate and corporate practice that focuses on commercial and residential real estate transactions and disputes, mergers and acquisitions, construction, and land use.
Before joining Croessmann & Westberg, Allen's represented clients as in-house counsel in both the financial and real estate industries. Allen has been director of operations and managing attorney for title insurance and settlement companies in Virginia, D.C., and Maryland while also underwriting title insurance for both commercial and residential real estate in all three jurisdictions. His representation of these companies included the formation of business entities, regulatory compliance, commercial and residential real estate transactions, and contract negotiations and drafting.
In Allen's current real estate practice, he helps clients with commercial and residential real estate sales, purchases, leases, and disputes. Allen's background in the real estate and title insurance industries also allows him to assist clients with land use, zoning, and boundary matters, as well as real estate negotiations. In addition to his legal practice, Allen maintains his title insurance producer licenses in Virginia and Maryland, while representing local title companies as counsel.
Allen is a former United States Marine, and currently loves to spend his down time traveling with his family, hiking, and learning humility on the jiu-jitsu mats.
Education
J.D., Regent University School of Law
B.S., Georgia State University
Professional & Bar Association Memberships
Virginia Bar
Licensed Title Insurance Producer